Cook Til Delicious is a reader-supported publication. To receive new posts and support my work, consider becoming a free or paid subscriber.
A slice of nostalgia
Today's recipe started with a memory of Hostess fruit pies. Perhaps you grew up with them — individually wrapped turnover-esque pastries with a tender, glazed crust and a filling best described as gloppy.
I'm really selling them, aren't I? But these, along with McDonald's apple pies and Marie Callendar's razzleberry pies, were the pies of my childhood. We lived near a Hostess/Wonder Bread outlet, and my brothers and I were all card-carrying members of the Kids' Club. This entitled us each to one free treat per visit. You could go classic with Twinkies or Ding Dongs, but I was a Snoballs or Hostess Fruit Pie kid.
One summery Sunday afternoon I was lounging around thinking about what I wanted to eat for dessert (pretty common state of mind for me), when it hit me.
I wanted a Hostess Fruit Pie.
I don't know why, because I haven't had a Hostess Fruit Pie in at least 25 years. But the heart wants what the heart wants.
However, it was pretty late in the afternoon and making mini fruit pies didn't seem like the most relaxing way to spend the remainder of my weekend. Then I remembered another style of fruit pie-adjacent pastry I'd made several years ago, also glazed and tender-crusted, but baked as one large slab and traditionally filled with apples. It appears in cookbooks under many different monikers — Danish-style slab pie, glazed slice, Chicago bakery apple slice, Midwest style pie. Often they are big enough to feed a small army, filling an entire half sheet pan.
I decided to make a slightly more modest-sized freeform slice, and swapped out the apples for more seasonally appropriate sour cherries. I could barely wait for the slick of icing to dry before tucking in.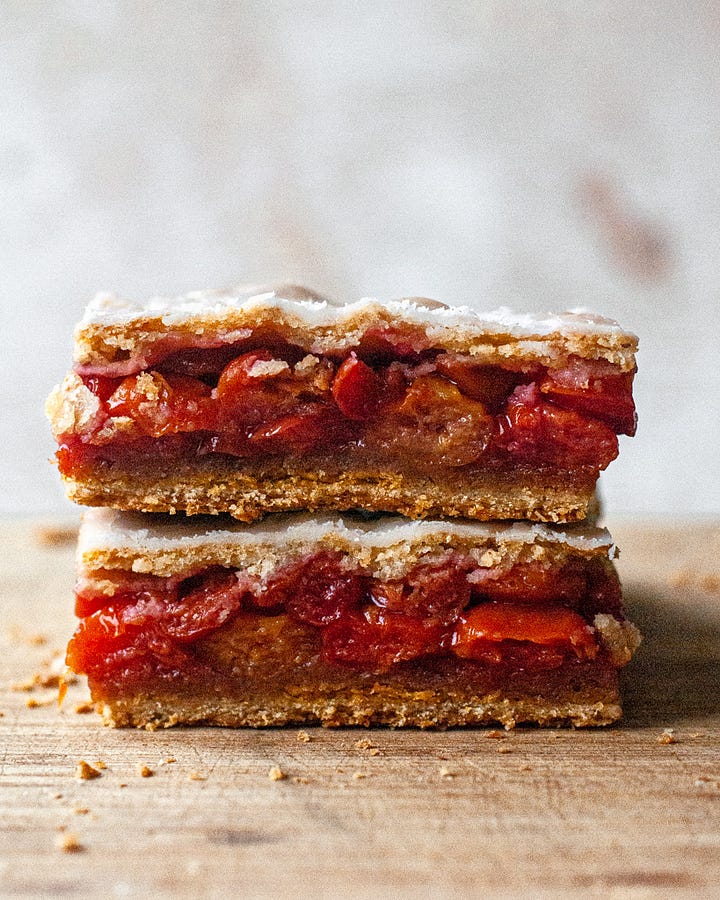 I won't claim it tastes like a Hostess Fruit Pie (my actual taste memory for the thing is rather fuzzy), but it was exactly what adult me wanted to sate the nostalgic craving. I also realized this is my new preferred method for making any type of slab pie. The pastry is a breeze to handle, and doesn't require the lengthy 2+ hour chill time of my typical pie crust. The pastry sits somewhere between a French pate sucree and American style flaky pie dough — it has some flake, but also a tender yet sturdy structure thanks to the addition of egg yolk and dairy. The bottom layer of dough is also dusted with a fine layer of cornflakes, which absorbs any extra moisture from the filling for a sog-proof crust. (You don't notice the cereal in the final product.)
I'm sharing a peach version of this glazed fruit slice today, since that's what is fresh here in my neck of the woods. But you could easily adapt this for any other pie fruit you have on hand, adjusting the sugar to taste.
Thank you, and an ask
September marks 6 months of the Cook Til Delicious newsletter! Thank you so much for subscribing — in a world where there are recipes everywhere you turn, I'm grateful you've chosen to read and make mine.
If you find my work valuable and are able, would you consider upgrading to a paid subscription? Your support through paid subscriptions makes this newsletter possible by helping cover the cost of ingredients and the time spent testing and writing recipes. Paid subscribers also have access to all past and future recipes in the newsletter archive.
Thank you for your support!
Cook Til Delicious is a reader-supported publication. To receive new posts and support my work, consider becoming a free or paid subscriber.
Keep reading with a 7-day free trial
Subscribe to Cook Til Delicious to keep reading this post and get 7 days of free access to the full post archives.