In our house, July is all about cherries. For seven of the past eight years (COVID restrictions ruined our streak in 2020), our Canada Day tradition has been to drive a scant hour west to a sweet family-run cherry farm. We spend a peaceful morning wandering the orchard, sampling the trees (with the farmers' urging!) and filling our baskets with sweet and — if they're ready — sour cherries. It's a day I look forward to every year.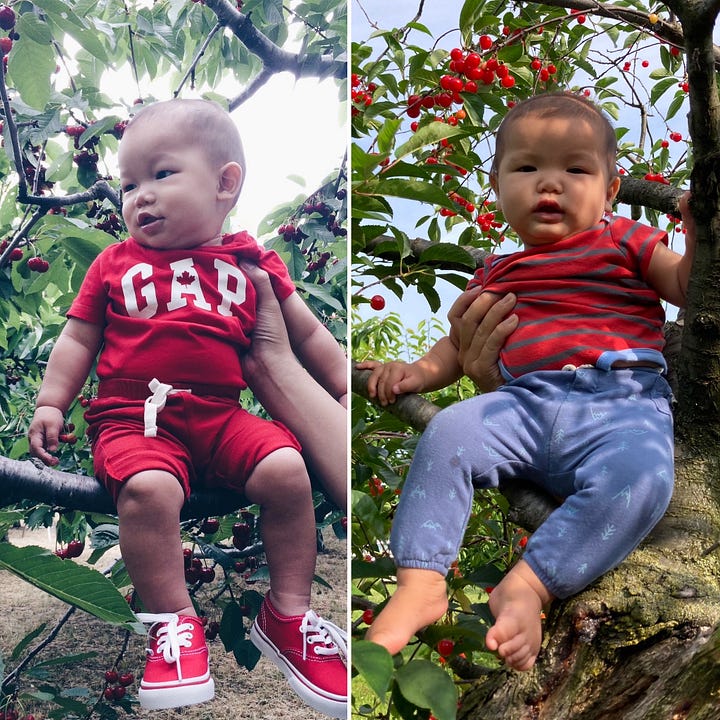 I always head into cherry season intending make All the Cherry Things, but most of the time my family members demolish the lion's share of the pickings before I have a chance to make much beyond a single pie. This year, though, I wised up and called dibs on enough cherries to knock off a few extra bakes. We also picked A TON more sour cherries than normal; and thanks to the help of my sous chefs I've now got several bags of them tucked away in the freezer for a snowy day.
(BTW, we do have a cherry pitter, but for sour cherries it's faster and easier to just pull the pits out by hand. A pitter removes too much flesh and can damage the delicate fruit. As you can see, pulling pits is a fun — albeit messy — task for kids!)
One bake I finally tackled this year was brown butter cherry blondies. Sweet, meaty dark cherries and brown butter seasoned with lots of vanilla is quite a marvelous flavor combination. I like to add a little barley flour (a nutty, sweet-tasting whole grain — worth stocking!) to amplify the brown-butteriness, and some melted white chocolate for a fudgy texture and even more vanilla flavor. They're quite rich, so I like chopping these into tiny squares and serving them cold as a nice little "lunch dessert" or sweet mid-afternoon pick-me-up. I haven't tried these with frozen cherries, but I think they should work (bake time will likely be longer).
---
Brown Butter Cherry Blondies
Makes one 9x9 pan
Ingredients:
85g white chocolate, chopped

170g unsalted butter, cubed

120g all-purpose flour

60g barley flour

175g dark brown sugar

50g granulated sugar

5g (1 1/4 tsp) kosher salt

1/2 tsp espresso powder

2 large eggs, straight from the fridge

1 Tbsp vanilla extract

200g fresh sweet cherries, pitted and halved if large

Flaky salt, for garnish
Method:
Preheat the oven to 350F with a rack in the middle. Line a 9x9-inch pan with two criss-crossing pieces of foil or parchment, leaving about 3 inches of overhang, and lightly grease.
Place the chopped chocolate in a medium bowl.
Place the butter in a small, light-colored saucepan over medium-low heat. Once the butter has melted, turn the heat up to medium-high. Stir frequently with a heatproof spatula, scraping the sides and bottom of the pan as needed. The butter will crackle, foam, turn clear gold, then finally start browning. It's done when the crackling subsides and you smell toasted nuts. This process takes about 5-7 minutes total, but the butter can go from browned to burnt in a flash—so keep an eye on it. Pour the butter and all the toasty bits over the chocolate. Let cool for about 10 minutes.
In a small bowl, whisk together the flours. Set aside.
Add the sugars, salt, and espresso powder to the browned butter mixture and whisk vigorously to combine. It may look a little clumpy and not completely smooth—that's fine. Add the eggs and vanilla extract and whisk vigorously for a minute or two until the mixture is slightly thickened and lighter in color.
Gently whisk in the flours just to combine. Fold in the cherries. Use a flexible spatula to fold from the bottom of the bowl to make sure everything is well-mixed and there are no pockets of unincorporated flour.
Pour the batter into the prepared pan and sprinkle with flaky salt if desired. Bake until the top is cracked and glossy and a toothpick inserted in the middle comes out with a few moist crumbs, about 25-30 minutes. It's essential not to overbake blondies or they will be dry and tough; err on the side of slightly underbaking them to ensure their chewy texture. Cool the blondies on a wire rack for an hour, then refrigerate until cold before slicing (chilling helps set the fudgy texture and also makes the blondies easier to slice). Serve chilled or at cool room temperature (I like these straight from the fridge). Store leftovers in an airtight container in the refrigerator for up to 5 days; freeze for longer storage.
---
Black Forest Cake
As a bonus for paid subscribers, I'm sharing my recipe notes (or a recipe-ish) for this black forest cake. Inspired by the classic German concoction of chocolate sponge cake filled with a kirsch-spiked sour cherry filling and whipped cream, I've taken a few liberties with my interpretation — most notably, less booze (because kids! Although this is easy enough to add back in if you prefer) and a very stable, delicious brown sugar creme fraiche whipped ganache for the filling and frosting.
Cook Til Delicious is a reader-supported publication. To receive new posts and support my work, consider becoming a free or paid subscriber.
Keep reading with a 7-day free trial
Subscribe to Cook Til Delicious to keep reading this post and get 7 days of free access to the full post archives.